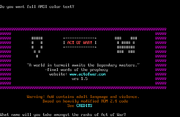 Act of War! (or AoW) was an adult-themed heavily modified ROM that supported full color ANSI graphics, that is now renamed to MordorMUD and is cross-hosted at mordormud.com port 4000, but still can be accessed through actofwar.com port 4000.
External Links
Edit
Ad blocker interference detected!
Wikia is a free-to-use site that makes money from advertising. We have a modified experience for viewers using ad blockers

Wikia is not accessible if you've made further modifications. Remove the custom ad blocker rule(s) and the page will load as expected.