DeviousMUD has its own Wiki: http://deviousmud.wikia.com/wiki/Devious_MUD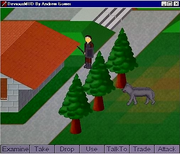 DeviousMUD
was a game that eventually became
RuneScape Classic
. It was created in 1998 by
Andrew Gower
.
DeviousMUD started out in 1998 as a game written solely by Andrew Gower in his home in Cambridge. "MUD" stands for multi-user dungeon. The game had isometric graphics.
Ad blocker interference detected!
Wikia is a free-to-use site that makes money from advertising. We have a modified experience for viewers using ad blockers

Wikia is not accessible if you've made further modifications. Remove the custom ad blocker rule(s) and the page will load as expected.