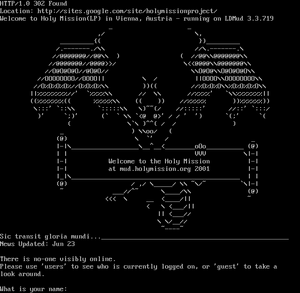 Holy Mission is a medieval fantasy MUD based in Linz, Austria.[1][2] Founded in 1992 and still online, it is one of the longest-running MUDs.[3] It uses the LPMud server software,[1][2] and has been seen as typifying the "LPMud genre".[4] (LPMud is properly a technical infrastructure, not a game genre, but some elements are popularly considered characteristic of games based on it.) Its name does not reflect any particular religious themes.[4]
References
Edit
External links
Edit
Ad blocker interference detected!
Wikia is a free-to-use site that makes money from advertising. We have a modified experience for viewers using ad blockers

Wikia is not accessible if you've made further modifications. Remove the custom ad blocker rule(s) and the page will load as expected.