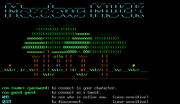 Meadows MUCK is a North American wildlife roleplaying haven set in the western country during the late 1800s-early 1900s, featuring wolves, cougars, horses, dogs, foxes, and various other talking animal species. While there is a small degree of human presence, the focus of roleplay is on the interactions between the animals.
Admin:
Curiosity - Head Wiz
Greer - General Help, Rp/Plots
Pavane - General Help, Animal Info, Rp/Plots
Therdde - Programmer

Groups:
           ​Leaders: Arroyo, Wiraqu
​           Leaders: Ikuna
           Leaders: 
           Leaders: Coinin
 External Links
Edit
amber.org.uk 7000 (telnet address)
Ad blocker interference detected!
Wikia is a free-to-use site that makes money from advertising. We have a modified experience for viewers using ad blockers

Wikia is not accessible if you've made further modifications. Remove the custom ad blocker rule(s) and the page will load as expected.