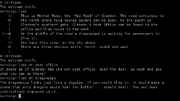 TubMud, a MUD based in Germany, is an LPMUD founded in 1990. "Tubmud is the LPMud at the Department of Computer Science of the Technical University (TU) of Berlin, Germany." It is mentioned in "How to make good quests".[1] According to it's website it was based on Genesis the original LP MUD.
The MUD features a mediation service to assist in resolving interpersonal conflict between players. Frequent meet-ups of players are held.
External links and further reading
Edit
Ad blocker interference detected!
Wikia is a free-to-use site that makes money from advertising. We have a modified experience for viewers using ad blockers

Wikia is not accessible if you've made further modifications. Remove the custom ad blocker rule(s) and the page will load as expected.